Baptist Health, Flagler Hospital, Southeast Georgia Health System to Explore Collaboration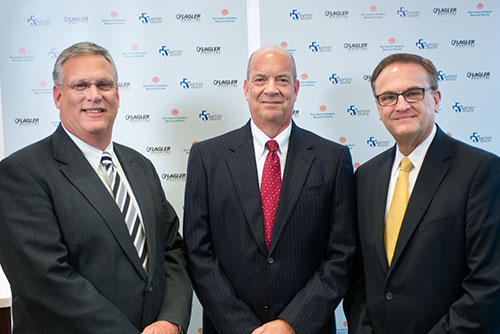 November 4, 2013 - Three community-based, not-for-profit health systems on the coast of north Florida and south Georgia today confirmed that they have signed an initial letter of intent to explore opportunities to collaborate. While the specifics of affiliation are yet to be defined, it is clear that it will not be a merger or acquisition.
This announcement comes shortly after the systems' boards concluded that there would be value in exploring strategies to work more closely together in a changing marketplace. One model under consideration is the creation of a contiguous health network spanning from St. Augustine to Jacksonville to Brunswick.
A key principle stated in the letter of intent is the preservation of strong local governance, community mission, and operating structures of each system. Any collaborative model considered wouldn't affect current licenses, and the participating systems would retain their current names -- in other words, no system would come under the branding of the other.
"Our systems serve contiguous geographic areas yet operate in distinct markets. We see this as an opportunity to protect and strengthen what we've each always done, while positioning ourselves to thrive in the future as a network of community-based, locally governed organizations. That community focus is our common core," said A. Hugh Greene, President & CEO of Baptist Health of Northeast Florida.
The systems expect for it to take several months to explore and refine the nature of their affiliation. At the top of their agendas is reassuring their respective employees and medical staffs that they will continue to function as they do now, under their current structures, policies and credentialing processes.
The systems indicated have a history of mutual support and cooperation and believe they have more to learn from one another. "Since its founding in 1889, Flagler Hospital has worked in cooperation with community leaders, area physicians and regional healthcare providers to ensure the highest level of care for our patients. Today, we look forward to further exploring ways this new coastal collaboration could benefit our patients, staff, local employers and our community through the sharing of best practices and achieving efficiencies that come with added scale," said Flagler Hospital President & CEO Joe Gordy.
"We are three healthy organizations and that puts us in an enviable position," said Gary R. Colberg, FACHE, president and CEO, Southeast Georgia Health System. "We are each coming from a place of strength and focusing on sustaining our community-based models for the long term. We don't know the details of our future collaboration yet, but those will become clearer as we work through the exciting possibilities before us."
###
About Baptist Health
Baptist Health is a faith-based, mission-driven system in Northeast Florida comprised of Baptist Medical Center Jacksonville; Baptist Medical Center Beaches; Baptist Medical Center Nassau; Baptist Medical Center South; and Wolfson Children's Hospital – the region's only children's hospital. All Baptist Health hospitals, along with Baptist Home Health Care, have achieved Magnet™ status for excellence in patient care. Baptist Health includes the area's only dedicated heart hospital; a comprehensive cancer center; orthopaedic institute; women's services; neurosciences, including neurosurgery and two Joint Commission-certified stroke centers; a Bariatric Center of Excellence; a full range of psychology and psychiatry services; outpatient facilities; urgent care services; and primary and specialty care physicians' offices throughout Northeast Florida. Recently opened facilities at Baptist include the J. Wayne and Delores Barr Weaver Tower and Baptist Clay Medical Campus. For more details, visit baptistjax.com.

About Southeast Georgia Health System
Southeast Georgia Health System is a not-for-profit, tobacco-free health system comprised of two acute care hospitals, two long term care facilities, three immediate care centers, four family medicine centers, and employs more than 115 providers working in 20 different medical specialties at more than 40 locations. The Health System has multiple outpatient specialty care centers including the only CyberKnife Center in the region and one of only three in Georgia, a Cancer Care Center accredited by the American College of Surgeons Commission on Cancer, designation of Centers of Excellence in: Bariatric, Breast Care and the Joint Replacement. Most recently, the Camden Campus has been named the 2013 Small Hospital of the Year by the Georgia Alliance of Community Hospitals. For more information call 855-ASK-SGHS (855-275-7447) or visit sghs.org.
About Flagler Hospital
Flagler Hospital is a 335 bed, acute care hospital that has been named one of America's Top 100 Community Hospitals by Becker's Hospital Review for the past two consecutive years. The hospital has operated as a not-for-profit healthcare institution in St. Augustine, Florida since its founding in 1889. Consistently ranked among the top 5% of all hospitals in the nation for both clinical excellence and patient safety, Flagler Hospital has earned accreditation from the American College of Surgeons Commission on Cancer, is a nationally accredited Chest Pain Center, a Joint Commission Primary Stroke Care Center, holds national accreditation for its total hip and knee replacement programs, and Center of Excellence Designation for its Bariatric Surgery Center. For more information about all of the hospital's award-winning programs and services, log on to flaglerhospital.org